The Leather Working Group (LWG) will participate in this conference on the ZDHc Roadmap to Zero
LWG notes that collaboration is essential to achieve our shared goals.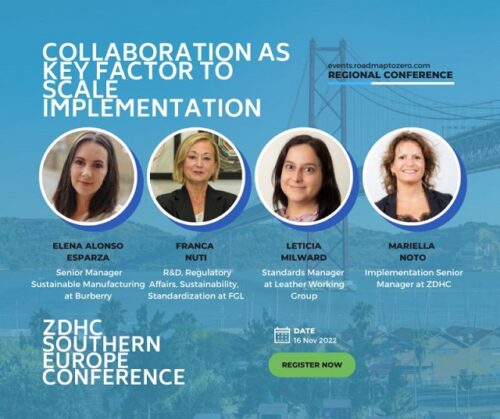 LWG is proud to share that Leticia M. from Leather Working Group will be presenting at the ZDHC Roadmap to Zero Programme Southern Europe event this week.

Collaboration is the overarching theme of the 2022 ZDHC Southern Europe Conference.
Collaboration may happen in multiple different ways, this can be a collaboration among organisations, stakeholders, between different tears in the supply chain or between passionate people to make a vision come true.

To showcase virtuous examples of collaboration we will have Elena Alonso Esparza, Franca Nuti, Leticia M. and Mariëlla Noto on the stage with us.