Producer prices in Germany — a leading indicator for inflation — surged 37.2% on the year, the biggest rise since records began in 1949, the federal statistics office said on August 19. The month-on-month rise, 5.3%, was also the highest on record.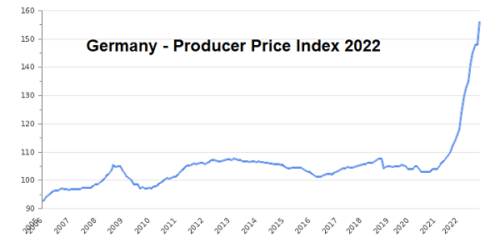 The increases in producer prices were primarily driven by skyrocketing energy prices, which were up 105% compared with the same month last year, the office said.

The German economy stagnated in the second quarter, with the war in Ukraine, soaring energy prices, the covid pandemic and supply disruptions bringing it to the edge of a downturn.

"The significantly lower gas supplies from Russia, the persistently high price increases for energy and, increasingly, other goods, as well as the longer-than-expected supply chain disruptions, also in connection with China's zero-covid policy, are weighing heavily on the economy's development," the finance ministry said.

With uncertainty about the reliability of Russian gas supplies as winter approaches and a levy to be imposed on gas consumers on October 1, inflation is unlikely to abate from the headline rate of currently 8.5% and could reach 9% at the end of August when fuel subsidies expire.