A footwear design student at De Montfort University in Leicester, Sam Lilley, has won first prize at the 2022 Cordwainers Footwear Awards. He was presented with the award at packed ceremony in London on June 9. He said he aimed to bring a love of illustration and a fascination with graffiti into his footwear designs, reports Leatherbiz.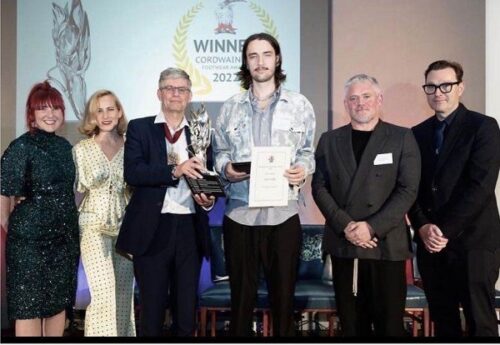 Second prize went to Dora Aradi, a student at the London College of Fashion, part of the University of the Arts in London. She has worked with a range of leathers, including kid leather tanned using Olivenleder's system, which uses residues from the olive oil industry.

The prize for sustainability went to fellow London College of Fashion student Jasmin Lancaster, who made her final collection, a range of shoes for small children, with materials including vegetable-tanned suede and merino wool.

A third London College of Fashion student, Swann Phelippeau, won a commendation award for a collection of shoes and boots that she called Imperfectly Perfect.
There were three finalists in total from De Montfort, two from the University of Northampton and ten from London College of Fashion.

Northampton-based men's footwear designer Guy West, who has been a judge for the awards in the past, attended as an interested industry observer this time.

He told leatherbiz that he noticed a higher level of glamour in the displays that the 15 finalists had set up to showcase their work at the event, particularly in the collections that focused on women's shoes. "I think after two years of covid, we all want to have a bit of glamour in our lives," he said.

The Worshipful Company of Cordwainers said it was delighted to have been able to hold the awards as a live event again this year, especially as the company is celebrating its 750th anniversary in 2022.