Fondazione Altagamma, the trade association that promotes high-end leathergoods and other luxury brands from Italy, has announced the expansion of an international networking project with the opening of Altagamma Club New York, Reports Leatherbiz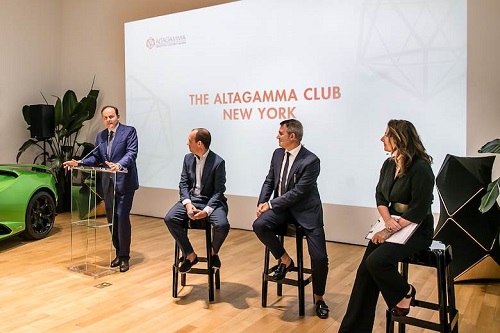 Image from the Lamborghini Lounge event shows, left to right: Matteo Lunelli, Luca Lo Curzio, Lelio Gavazza, and Fondazione Altagamma chief executive, Stefania Lazzaroni.
This initiative will give Altagamma brands with representation in the US the chance to work together to promote Italian creativity, excellence, quality and lifestyle there, Altagamma said. This follows similar local networking initiatives in the Netherlands and China.

Chief executive in North America of fashion group Ermenegildo Zegna, Luca Lo Curzio, will head up Altagamma Club New York, working closely with Bulgari's executive vice-president for sales and retail, Lelio Gavazza. Italy's diplomatic and consular network in the US will also play a key role.

It launched recently at a trends event at the Lamborghini Lounge in the Chelsea arts district.

At the event, Altagamma president, Matteo Lunelli, said: "The US is an increasingly crucial market for high-end companies. In 2021, it was the largest market for personal luxury goods, reaching a value of €89 billion euros, 31% of the global market. US consumers have always loved Italian style and the quality of our products: they are extremely knowledgeable consumers who have always stimulated our creativity."