Leather manufacturer Scottish Leather Group (SLG) has lent its support to its local football club, Saint Mirren, in a bid to collect warm clothing to help those in need this winter, writes Leatherbiz.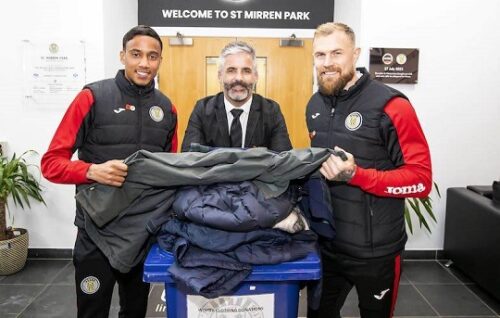 Saint Mirren players Keanu Baccus (left) and Richard Tait (right) launch the warm clothing drive with the club's chief operating officer, Keith Lasley.
Working with a local charity, Kibble, Saint Mirren asked fans to bring winter clothing to donate at its last two home matches before a break for the FIFA World Cup. SLG joined in, inviting local people to support the initiative and offering to collect donations at its cutting plant in Paisley too.

SLG's chief commercial officer, Nick Muirhead, said: "We have been embedded in the local communities of Paisley and across Renfrewshire for hundreds of years and remain committed to providing support where possible. We have humbled by the engagement of our people, who are keen to get involved."