The creation of leather is the oldest form of recycling in the world. Now it takes hides from the meat and dairy industries that would otherwise go to waste and recycles them, reducing greenhouse gas emissions while creating a valuable, versatile material. But can leather itself be recycled? Yes, leather scraps, offcuts and trimmings from the manufacturing process can all be put to good use. Even post-consumer leather products can be given a second lease of life. We look at some of the initiatives making it possible. Report by Real Leather.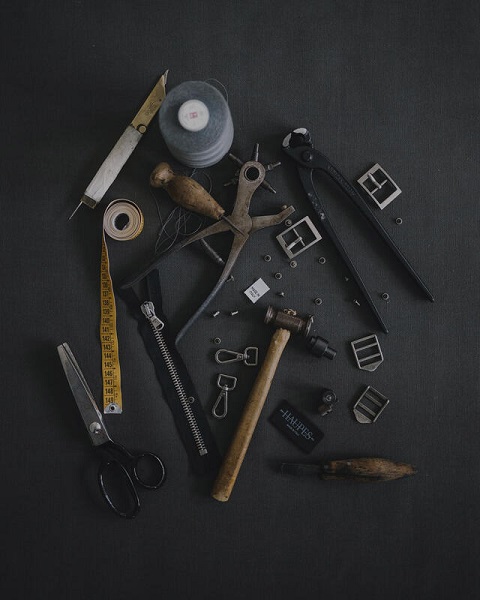 From waste to worth
It is estimated that around 800,000 tonnes of leather are wasted every year as off-cuts, trimmings and shavings from the manufacturing process are needlessly thrown away. To reverse this trend and signal their commitment to the circular economy, some brands are using leather 'waste' as a creative resource. Anya Hindmarch's distinctive patchwork bags, for instance, are made from leather offcuts while Loewe has created an equally covetable range of woven effect bags using leather left over from previous collections. Strips cut from excess calfskin leather are braided together using a simple, traditional basket-weaving technique. Smaller pieces of surplus leather are made into handbag charms. From fashion to fast cars, Lamborghini reuses leather offcuts from the production process and leather that does not pass its quality control as raw material for small leather goods. Its Upcycled Leather Project, a collaboration with ethical fashion enterprise Carteria, includes a tote bag, phone case, cardholder, keychain and a paper holder.
Recycled, resoled
Post-consumer waste is also problematic with estimates suggesting that 99% of the stuff we buy is thrown away. In the global footwear industry alone, 24 billion shoes are produced every year and most end up in landfill with very little wear. Recycling shoes is challenging because they are made up of as many as 40 – 65 different components – and can require up to 360 steps to be assembled. The glue used in the manufacturing process is particularly tricky. Footwear brand Clarks has addressed this by reating a glue-less shoe made from five pieces that can be taken apart at the shoe's end of life for easy recycling. Many footwear brands also offer take-back schemes. Dr. Martens works with Soles4Souls to redistribute unwanted shoes to people who need them, while Schuh offers a discount off new shoes for anyone donating their old pair to its Sell Your Soles Scheme.
Luxury bags for life
Even designer handbags can end up as waste, with high-end luxury brands burning or slashing unsold products to preserve product scarcity and the exclusivity they are known for. As the fashion industry strives to change its ways and prove its sustainability credentials, schemes are springing up to extend the life of luxury handbags and reduce unnecessary waste. Coach promotes 'wear it, love it, pass it on'. Through its Coach (Re)Loved Exchange, customers can trade in eligible Coach bags they no longer want for credit towards their next purchase. The bags are refurbished, reimagined, or recycled in the Coach workshop and then sold as part of the brand's preloved collection. Similarly, The Mulberry Exchange buys back preloved bags from customers and, once authenticated, mends and restores them, ready for their next owner. And when bags are beyond repair, Mulberry uses them to power the production of a new bag, working with Muirhead, part of the Scottish Leather Group, and its innovative energy reclaim system. Mulberry also supplies leather scraps to schools, universities and craft groups, as part of its goal to achieve zero waste throughout its operations.
From seat cover to travel bag
The airline and car industries often use leather for seating that, due to the natural cycle of refurbishments and upgrades, is replaced before the end of its useful life. Portland, Oregon-based Looptworks is one company putting this still-valuable material to good use, turning retired leather seats into planet-friendly travel bags and kits. By eliminating the need to make new leather, its Carry on Collection developed with Alaska Airlines saves an estimated 1,500 gallons of water per product. Malaysian Airlines has also created a range of leather handbags from repurposed aircraft materials that it has named after IATA codes for destinations within its network. Some initiatives go further by addressing the social side of sustainability, such as Repurpose with Purpose from Southwest Airlines. Through its partnership with charity Unshattered, women recovering from addiction turn leather seats into high-end travel bags and accessories. The initiative offers them a combination of community, employment, and personal and professional development, which the charity says helps end the addiction relapse cycle. Southwest Airlines also donates leather to other non-profits around the country, including one in Texas that helps disadvantaged groups learn skills by making leather accessories. In the car industry, Pingree Detroit has built a business around recycled or upcycled leather, turning it into handmade footwear, accessories, home goods, and pet accessories. The products are made by Detroiters, especially US veterans, who are taught new skills in industrial sewing, shoe making and leather crafting.
Play to leather's strength
What is interesting about these examples is that they promote their use of waste or surplus leather with pride. It is not only a mark of sustainability but a source of creative inspiration. Preloved products also have kudos, and the fact that they are recycled adds to their appeal. This positive association is encouraging. And the hope is that as conscious consumerism grows, more brands will consider unused, leftover leather as valuable raw material, and people will think twice before throwing something away. This approach is better for the planet, saving the energy and resources required to make new products and giving purpose to waste, keeping it out of landfills and extending its usefulness. It also plays to leather's strength. Unlike its imitators, leather is a durable, resistant material that can be restored and repaired and last a lifetime, or more – so let's make sure that it does.