The second edition of the Global Footwear Executive Summit, to be held on the 31st of March, will bring together top players of the industry to explore digitalization, pricing and sustainability strategies. Report by
World Footwear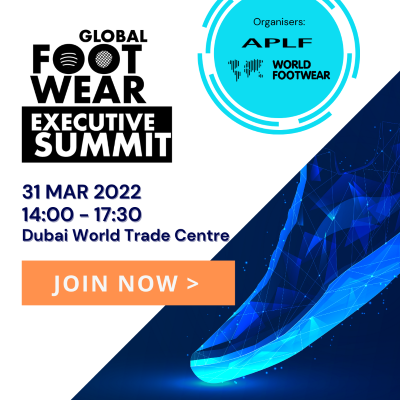 In addition to visiting the exhibitions of
all three APLF fairs
– APLF Leather, Materials + and Fashion Access, from the 30th of March to the 1st of April, attendees will have the opportunity to participate in
the second edition of the Global Footwear Executive Summit
in the afternoon of the 31st. Co-organized by World Footwear and APLF, this second edition will join
top players
from footwear brands, retailers, suppliers and associations to
explore the post-pandemic future of the industry
, examining
pressing
subjects, such as digitalization of the industry, pricing and sustainability. Today,
new technologies
are quickly transforming manufacturing and retail processes, and
sustainability
is at the top of the agenda. At the same time,
managing the supply chain
is becoming more and more challenging thanks to rising logistics costs and inflation and still ongoing COVID-19 constraints. Given this
complex picture
, APLF acknowledges the need for
tracing viable strategies
to face the future ahead, and invites all members of the industry, from manufacturers, suppliers, owners to associations, to take part.
APLF Special Edition in Dubai
After an absence of two years since its last edition in Hong Kong,
all three APLF fairs
– Leather, Materials + and Fashion Access –return
to be found
in Halls 1 to 5 of the Dubai World Trade Centre, from the 30th of March to the 1st of April. The organization is estimating that
400 exhibiting companies
will occupy the 15 national pavilions (Brazil, Egypt, France, India, Italy, Japan, Korea, Pakistan, Spain, Taiwan, Turkey, the UK, and the USA) and is expecting to welcome
around 8 000 attendees
. Organizers are also promoting a set of parallel conferences to discuss several topics concerning the industry.