The regional government of Veneto has formally approved a plan for spending its share of Italy's post-covid recovery plan, reports
Leatherbiz
.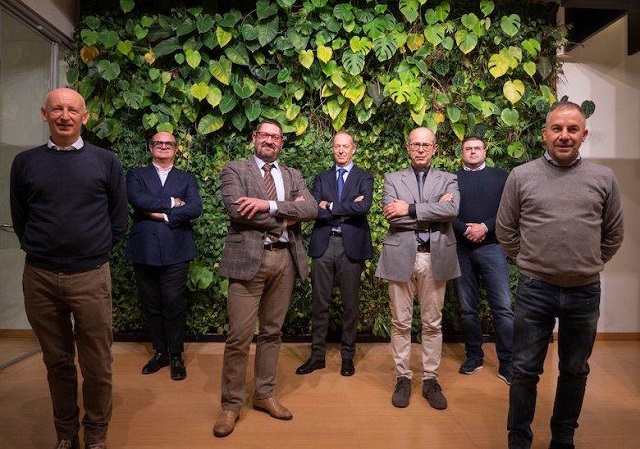 Image shows the current president of the Distretto Veneto della Pelle, Riccardo Boschetti, with members of an advisory council established in 2019. They are (left to right): Adriano Boller from small business association Confartigianato; Luca Pretto from employers' association Confindustria; Mauro Pellizzari from tanning machinery manufacturer Gemata; Claudio Bortolati from tanning auxiliary producers association UNPAC; Dr Giorgio Pozza Distretto scientific director; Paolo De Marzi from business association Apindustria; and Distretto president, Riccardo Boschetti.
Italy is to receive a total of €190 billion in loans and grants from the European Commission to help put its economy back on track after two years of covid-19. Veneto's regional council voted on March 15 to consider how best to invest its share, €7.8 billion, and approved 16 specific strategic projects that various organisations around the region had presented. Collectively, these projects have the common aim of "relaunching development" in Veneto, the council said, adding that this meant making communities and businesses healthier, greener and more digitally connected. One of the 16 strategic projects involves the region's leather manufacturing cluster, the Distretto Veneto della Pelle. It has won inclusion in the region's recovery plan for a project it has called 'Tanning: towards zero environmental impact'. The Distretto unveiled initial details of this project in the middle of 2021. In broad terms, it said it would draw up a masterplan for member tanneries, most of which are in the Arzignano-Chiampo cluster in the province of Vicenza, to follow. It has set up a high-level technical-scientific committee to decide what actions tanners should take, basing the strategy on four principles. All of the raw material that Veneto tanners work with will come from by-products from the food value chain. They will establish what the Distretto has called "excellence" in terms of finding new uses for the by-products that derive from their own production. Likewise, they will achieve the same high levels in the chemicals and machinery they use to make leather and in the water treatment processes they put in place. Finally, they will follow the path already put in place by some Veneto leather manufacturers to comply with important certification programmes. Through World Leather's exclusive partnership with the Distretto Veneto della Pelle, the magazine will publish full details of the 'Tanning: towards zero environmental impact' project as it emerges and develops. Local media have reported that the tanning project's share of the funding will be €250 million.
Credit: Distretto Veneto della Pelle.