An important and significant academic recognition. The University of Northampton conferred it on Federico Brugnoli, awarding him the Doctorate ad Honorem in Fashion Sustainability. As an expert in "the global fashion and luxury industry in terms of sustainability in the value chain", Brugnoli began his professional career in the world of leather. And, among the latest projects curated, there are those carried out in the context of Lineapelle and Micam.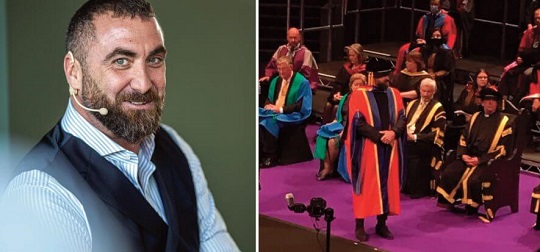 Federico Brugnoli, an Italian in Northampton
"Federico Brugnoli's career – reads the motivation for the Doctorate ad Honorem – is consistent with the mission of the University". In other words, "inspire positive and socially responsible change ". Not only that: "It reflects the ethos of the Institute for Creative Leather Technologies and the University of Northampton"., which is directed towards "sustainability, international / global issues, innovation and strategic thinking".
An honor for Italy
"It is an honor, a privilege to receive this Doctorate – comments Brugnoli -. It is the recognition of many years of work and makes it really happy that an English university recognizes this type of skills of an Italian. It is a starting point for Italy to think in the direction of that role of excellence in the fashion tech context that belongs to it ".
His career
Founder of Spin360 in 2009, previously Brugnoli has developed projects related to innovation and sustainability within the Italian tanning industry, in particular working for UNIC – Italian Tanneries. "Federico Brugnoli – comments Fulvia Bacchi, general manager of UNIC -, who for many years has been one of our collaborators, has received well-deserved recognition for his commitment and his innovative drive in favor of the sector. We are happy for him ". He is the curator of Lineapelle Innovation Square and Micam X. He has assumed the position of Scientific Director of the Master in Fashion Sustainability and Industry Innovation of the Costume & Moda Academy, which will begin in November 2022 in the new Milan office.