A new generation of French leathergoods brands is emerging in an expanding sector. Just as luxury brands such as Hermes and Chanel are opening new workshops to cater for growing demand, the same market forces are seeing the emergence of new, independent brands.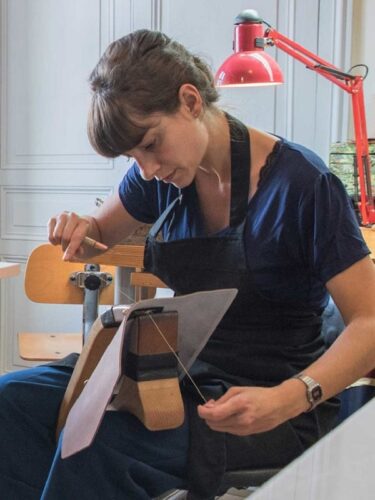 Nadège Seguy at work in her atelier in Limoges
Originally a saddler-leather worker, Nadège Seguy perpetuates a traditional know-how of excellence through her brand. Her leitmotiv is timeless creations that are not bound by fashion's changing seasonality.

Nadège manages the entire creative and manufacturing process of her luxury leathergoods collection which includes bags, small leathergoods, belts and jewellery such as earrings and rings. All are handmade in her workshop in Limoges.

The saddle finishes are characterized by a smooth and curved rendering and a shade in harmony with the leather; the hand stitching at the saddle stitch and linen thread ensures the holding of the pieces; the models are lined in lamb or calf.

Bovine leather is sourced locally from the Bastin & Fils tannery in Saint-Léonard-de-Noblat, a specialist in extra slow vegetable tanning. The solid brass buckles come from the Poursin house in Paris. The two collections, Ecoroce and Signature, are offered in unique pieces or small series, timeless models are free from any seasonality.

At the same time, Nadèg is developing her distribution network. Starting with her e-shop, the brand is now marketed in the Galerie Le Bocal in Limoges, a boutique co-managed by a collective of local designers, and in some concept stores in France and Switzerland.

Her commitment and passion for her craft are reflected in sharing her know-how by teaching leathergoods techniques at the Centre of Excellence of the Leather & Luxury Trades in Thiviers in the Dordogne.