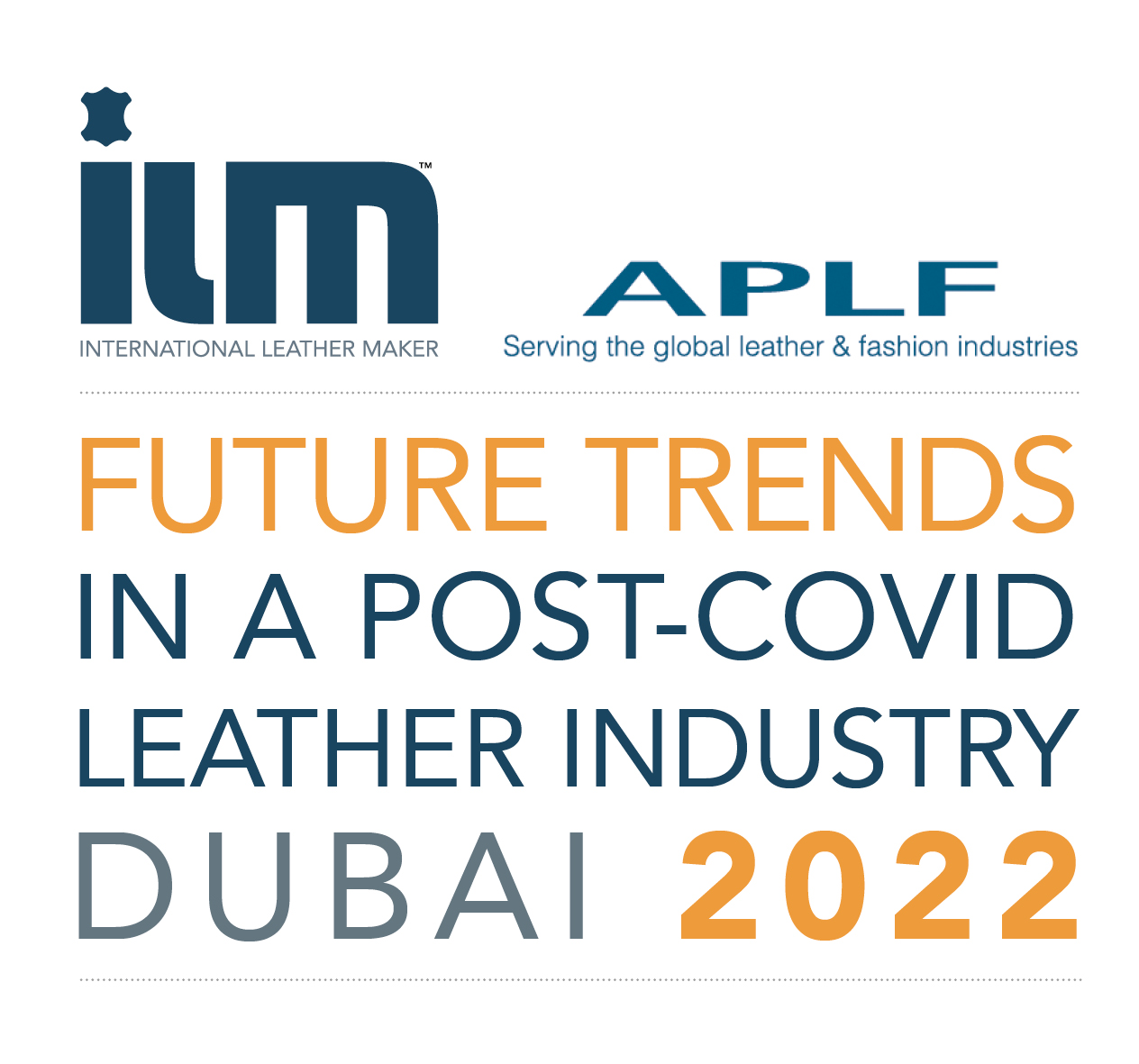 Standard Price (Physical/ Online): US$200 per person + VAT/booking fee
A half-day hybrid conference featuring a live in-person event and a virtual conference for those that cannot attend in-person.
After an absence of two years, APLF will take place from March 30 to April 1, 2022 at the Dubai World Trade Centre. It will be the first time that the event has taken place outside of Hong Kong and Dubai represents a unique opportunity for the global industry to come together in a safe in-person environment.
To mark the return of the most international trade fair in the global leather industry, ILM has partnered with APLF to present a conference focused on the mega-trends sweeping across the industry in a post-pandemic and post- COP26 marketplace.
In light of the pandemic, this conference will be available to view online and will be broadcast around the same time as the live event. It will not be a simultaneous live feed.
Presenter programme and topics (Dubai local timings):
12.30 – 13.10 Registration.
13.10 – 13.15 Martin Ricker, Content Director, International Leather Maker (ILM).
Welcome & Introduction
13.15 – 13.45 Debbie Burton, Board Member, Leather Naturally.
Exploring consumer attitudes and understanding about leather.
13.45 – 14.15 Deborah Taylor, Managing Director of the Sustainable Leather Foundation & Mauricio Bauer, Senior Director – Beef and Leather Supply Chains, WWF U.S.
Deforestation: A Solutions Driven Approach.
14.15 – 14.45 Michael Søndergaard, CEO, Scan-Hide & Birgitte Langer, Business Development Director, Spoor.
Transparent transformation.
14.45 – 15.00 Michael Schumpp, Associate Director, International Programs, Leather and Hide Council of America.
Real Leather. Stay Different Campaign and International Student Design Competition update.
15.00 – 15.30 Coffee break and networking.
15.30 – 16.00 Gustavo Adrián Defeo – FSLTC, CEO, Ars Tinctoria.
Radio-carbon as a measure of quantification of the circularity of materials.
16.00 – 16.30 Kim Sena, Sustainability Manager, JBS Couros & Federico Brugnoli, CEO, Spin360.
Science-based environmental footprint reduction strategies.
16.30 – 17.00 Florian Schrey, Account Director Brands & OEMs, Royal Smit & Zoon.
Enabling positive changes in leather.
All presentations will be in English only.